These instructions relate to App 4.0+. Please make sure you have the latest version prior to following these instructions. Download for iOS or Android.
Schedules allow you to turn your lights on and off, so you can automate your home's lighting.
Before creating schedules, ensure your lights are connected to the cloud.
Note: a schedule is a single message sent to the light. If you wanted to set a schedule to go on at a certain time and turn off at another time, you would need to create two separate schedules. One schedule set to "Turn On" the light(s), and another schedule with the start time set to "Turn Off" the light(s). Further, when setting up your schedules, you are able to choose whether they will fade on or off over a specified duration.
You can use "Leave Unchanged" as the "Power" option. When this is done, the light will not come on when the schedule occurs but instead change to the new color settings. When you turn on the light from the LIFX app or use voice controls, the light will be the expected color for the time of day, based on your schedule.
Creating a LIFX Schedule
Adding a New Schedule
1. Tap the + button in the bottom right corner of the app
2. Tap NEW SCHEDULE
3. Select NEW SCHEDULE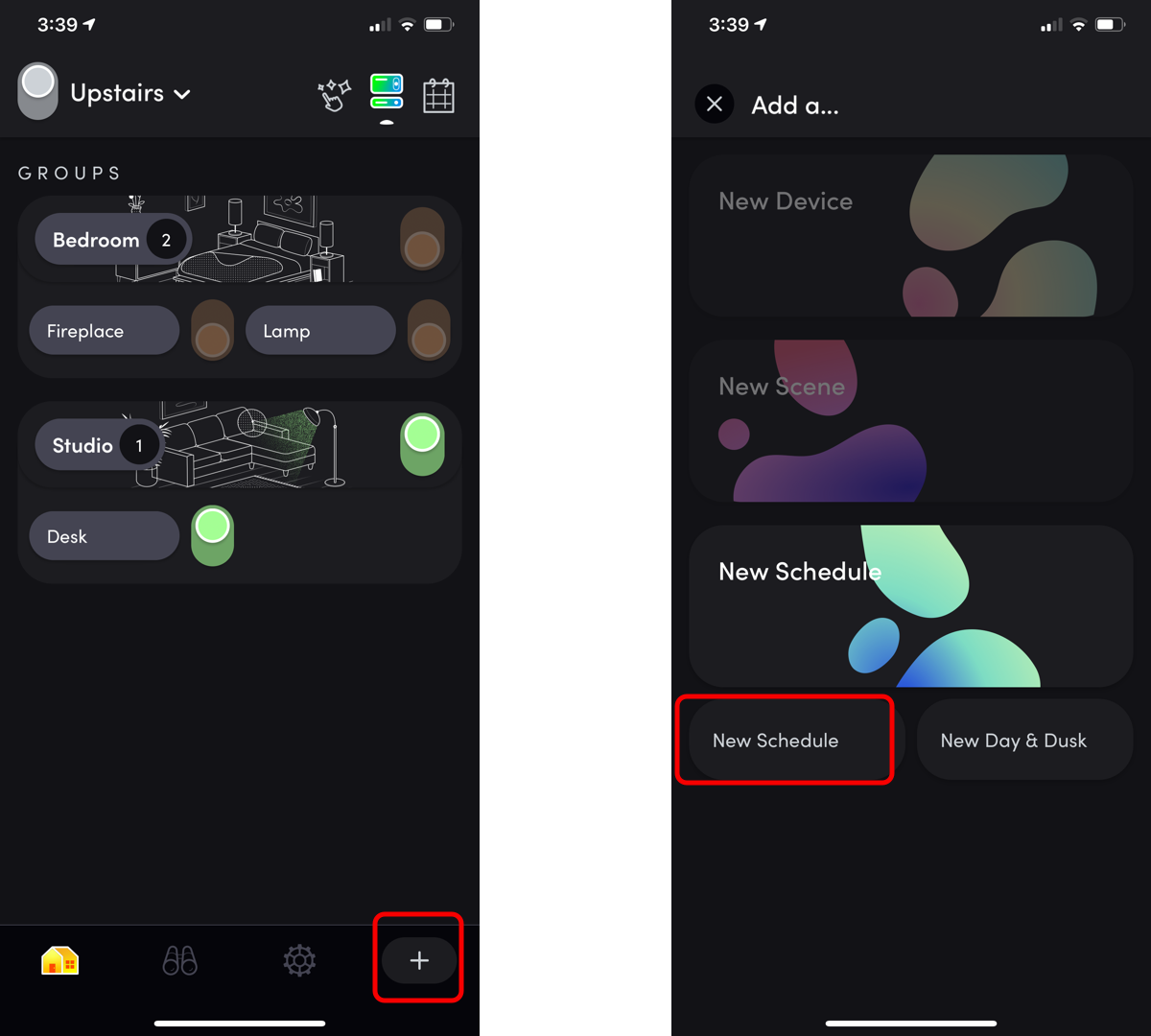 Naming Your Schedule
4. Choose a name by tapping the NAME ME text
5. Tap 'Done', once you have your schedule name

Set the Schedule Time
6. Select a start time for the schedule
7. Click SAVE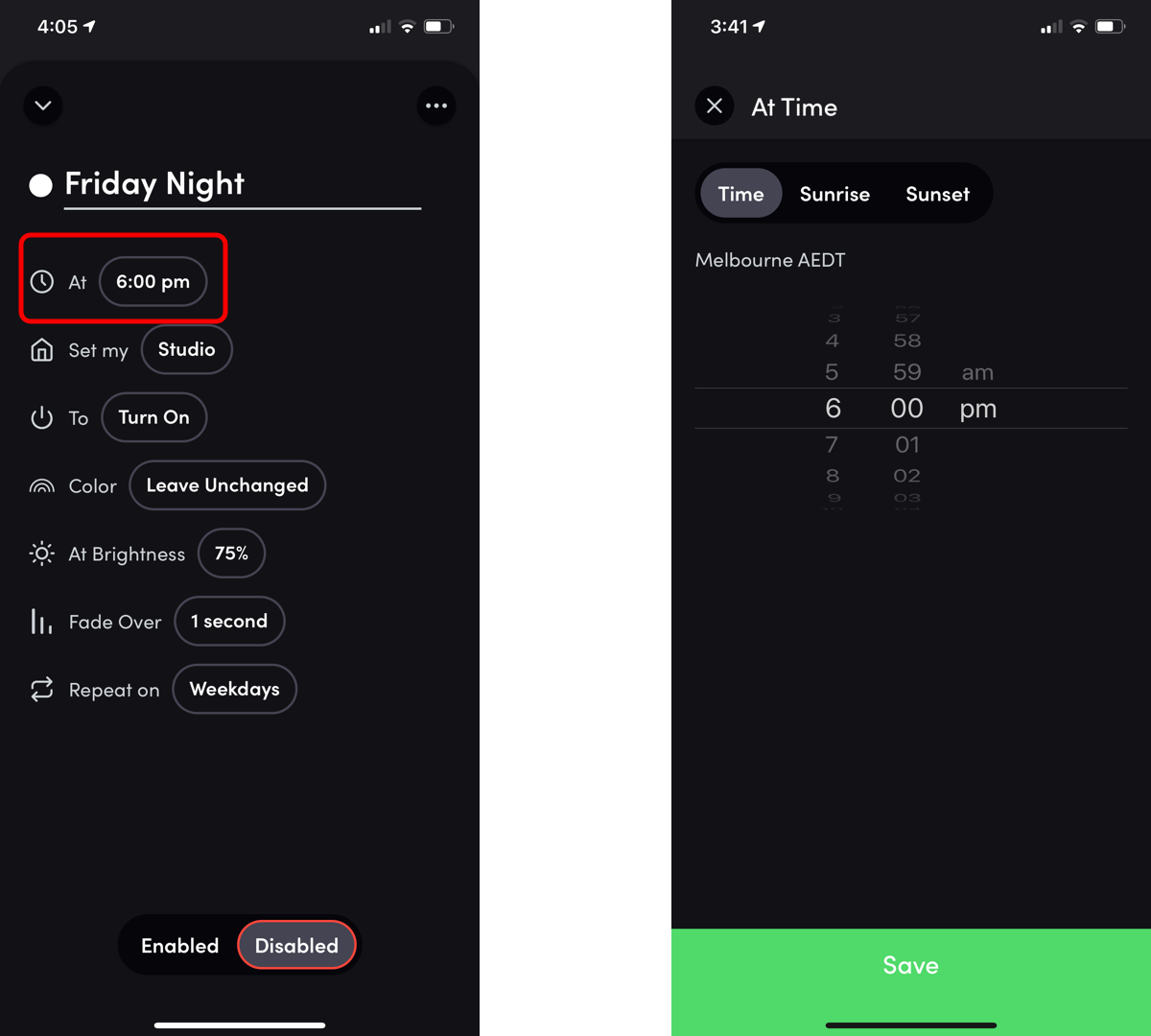 Solar Schedules
It is also possible to create Schedules to work with the setting or rising sun. This will change daily depending on the sunset/sunrise time in your location.
8. Select either SUNRISE or SUNSET instead of TIME
9. ALLOW the device to access your location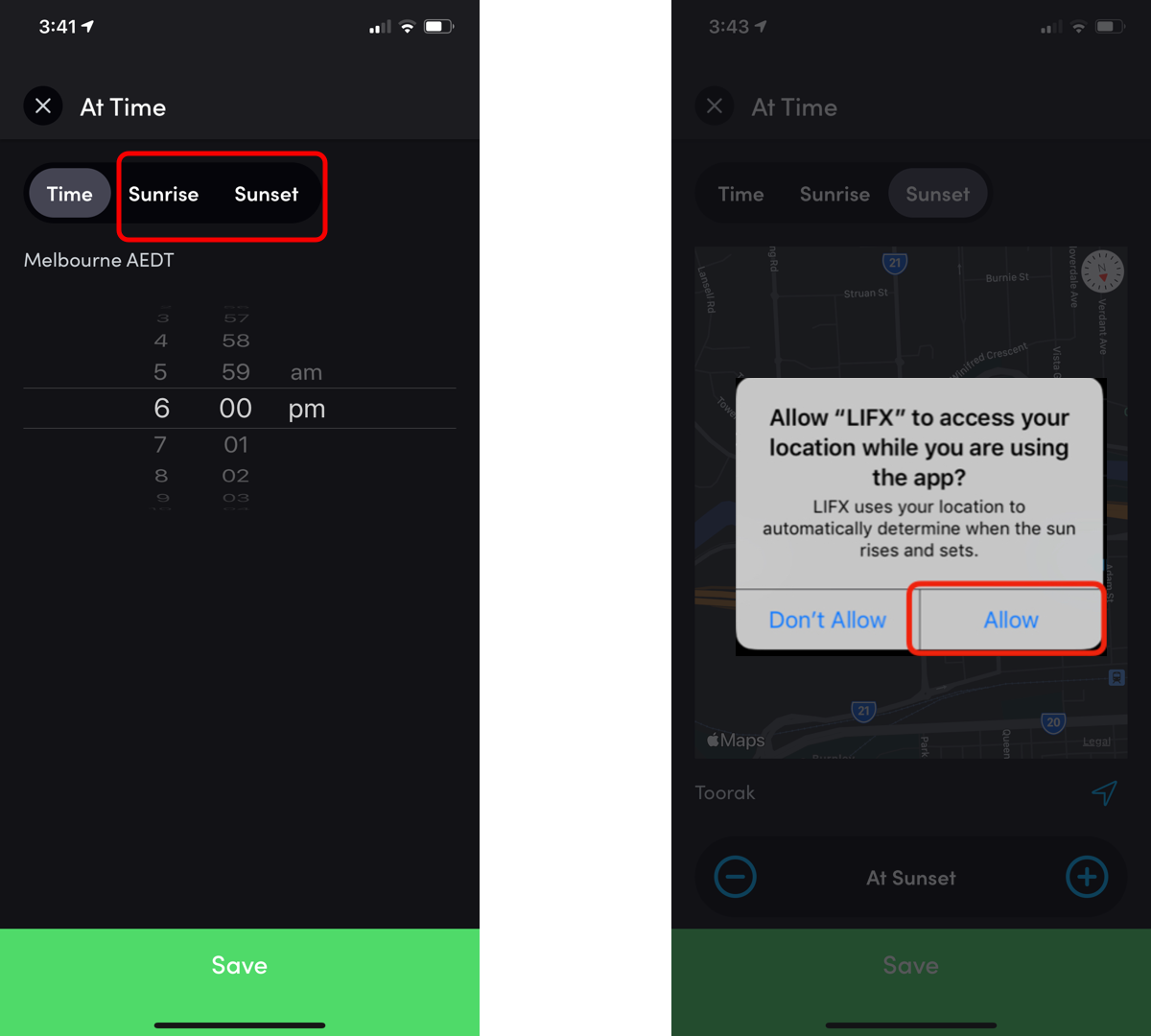 10. Toggle the '-' and '+' icons to set your lights to turn/off a specified time before/after sunset or sunrise
11. Tap SAVE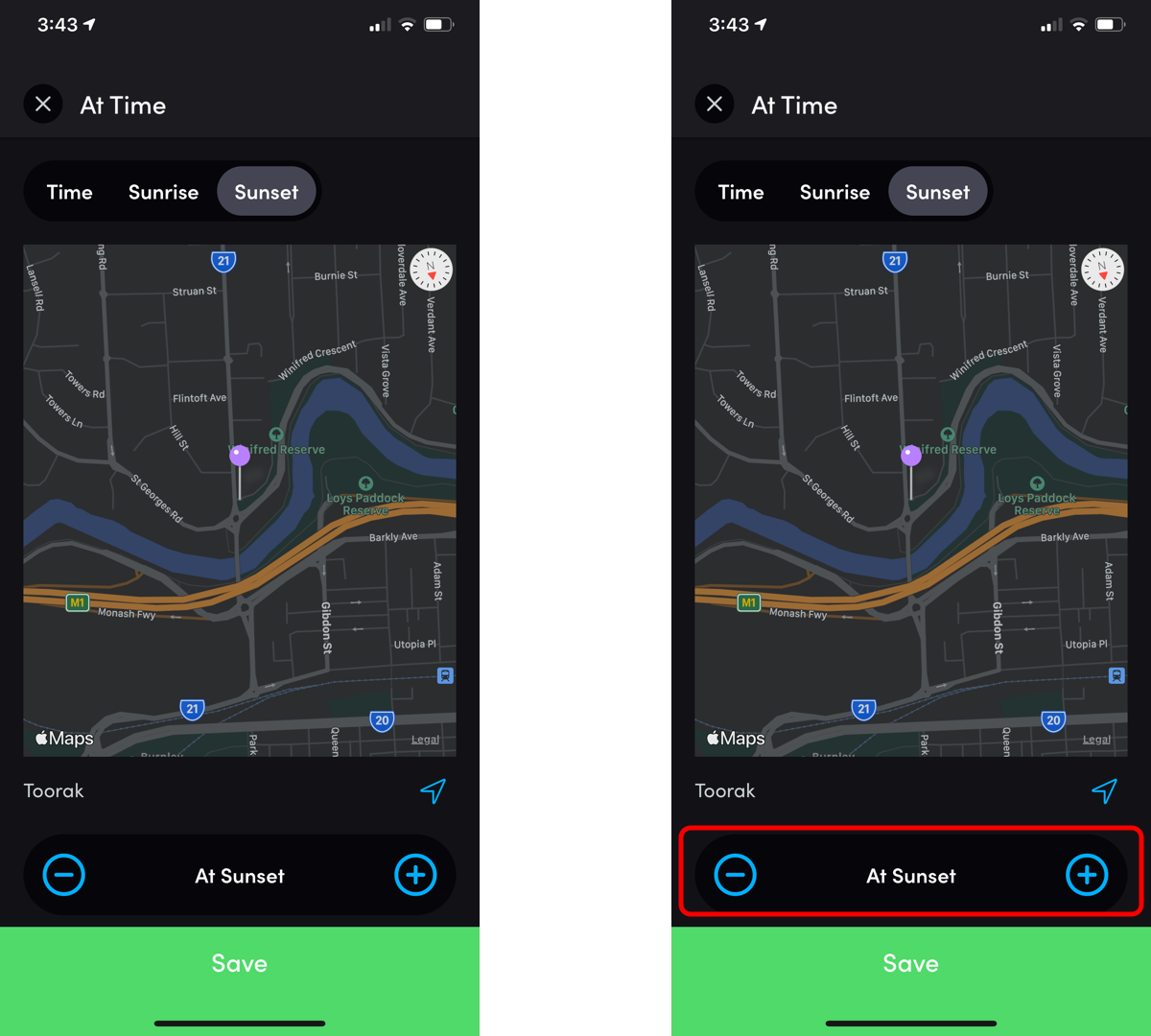 Choosing your LIFX lights for the schedule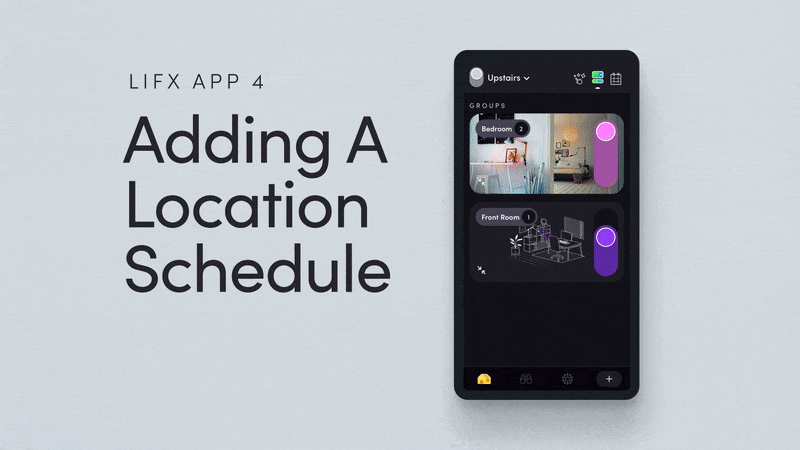 12. Choose to apply the schedule to either your entire LOCATION, a GROUP, a single LIGHT, or SCENE
13. Tap SAVE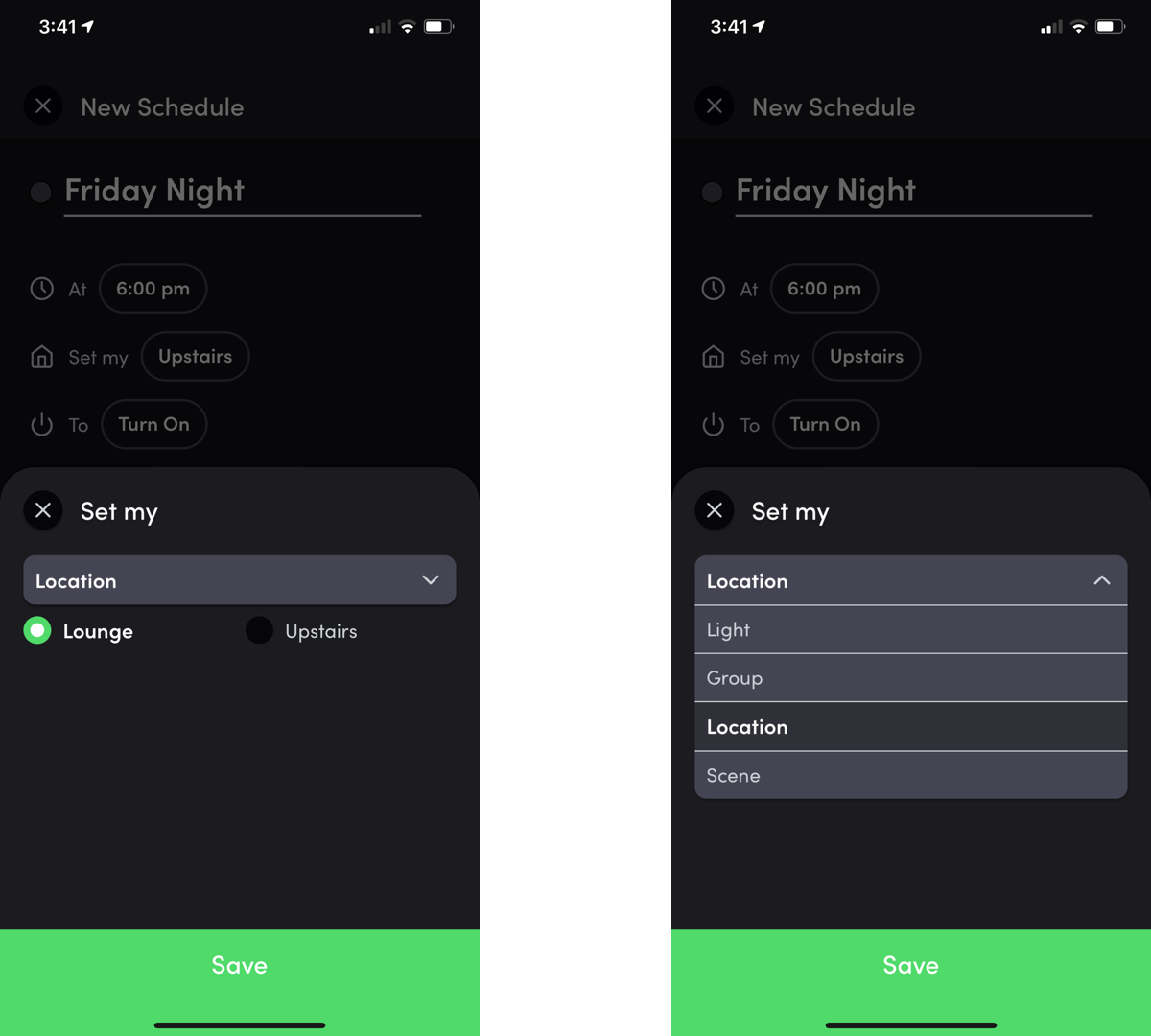 Power settings for your Schedule
14. Choose from TURN ON, TURN OFF or LEAVE UNCHANGED
15. LEAVE UNCHANGED will keep the same on/off state, but change any brightness/color settings in the next screen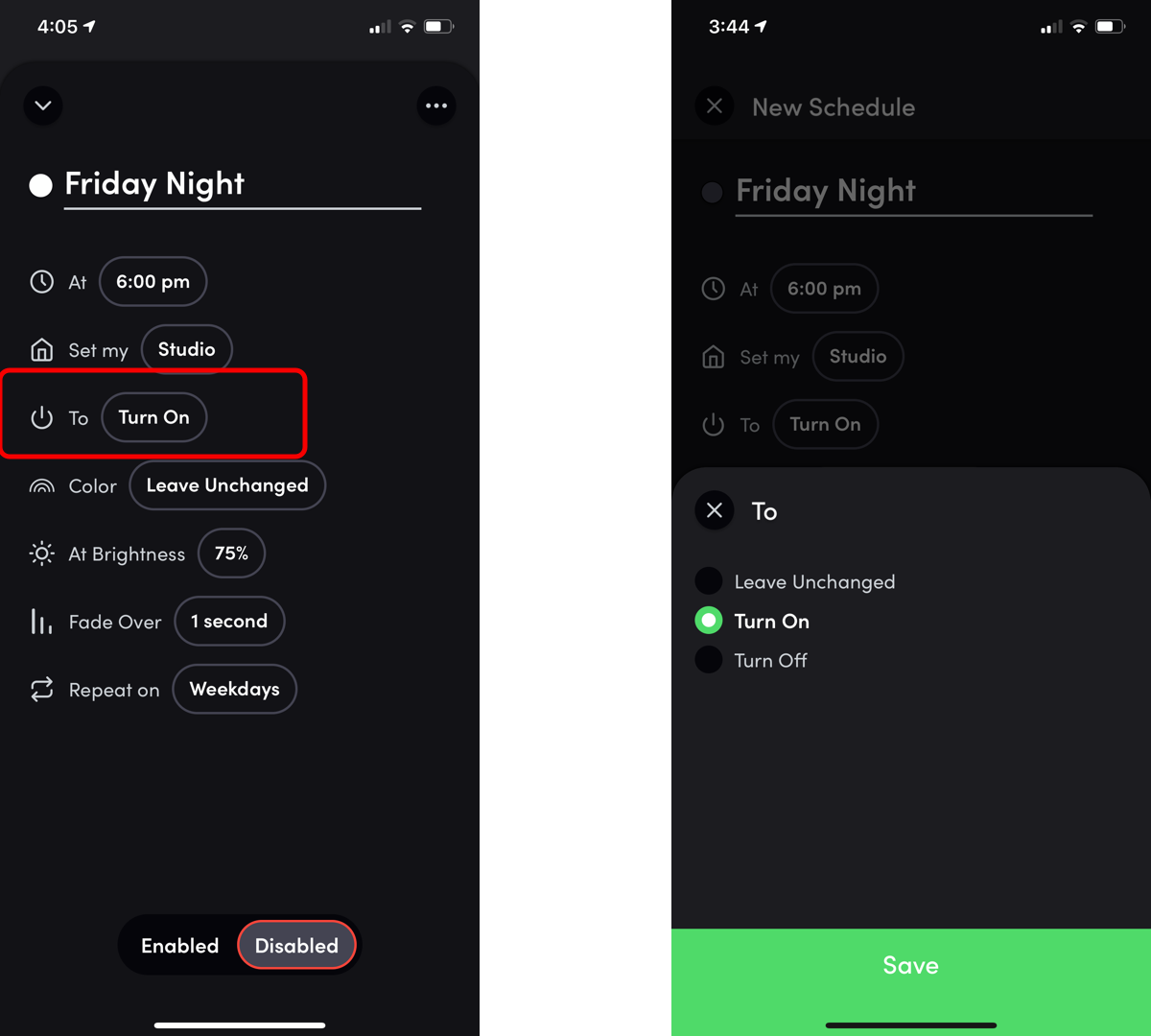 Choosing a Color, or White setting for the schedule
16. Select a COLOR
17. LEAVE UNCHANGED will leave lights at the last known color setting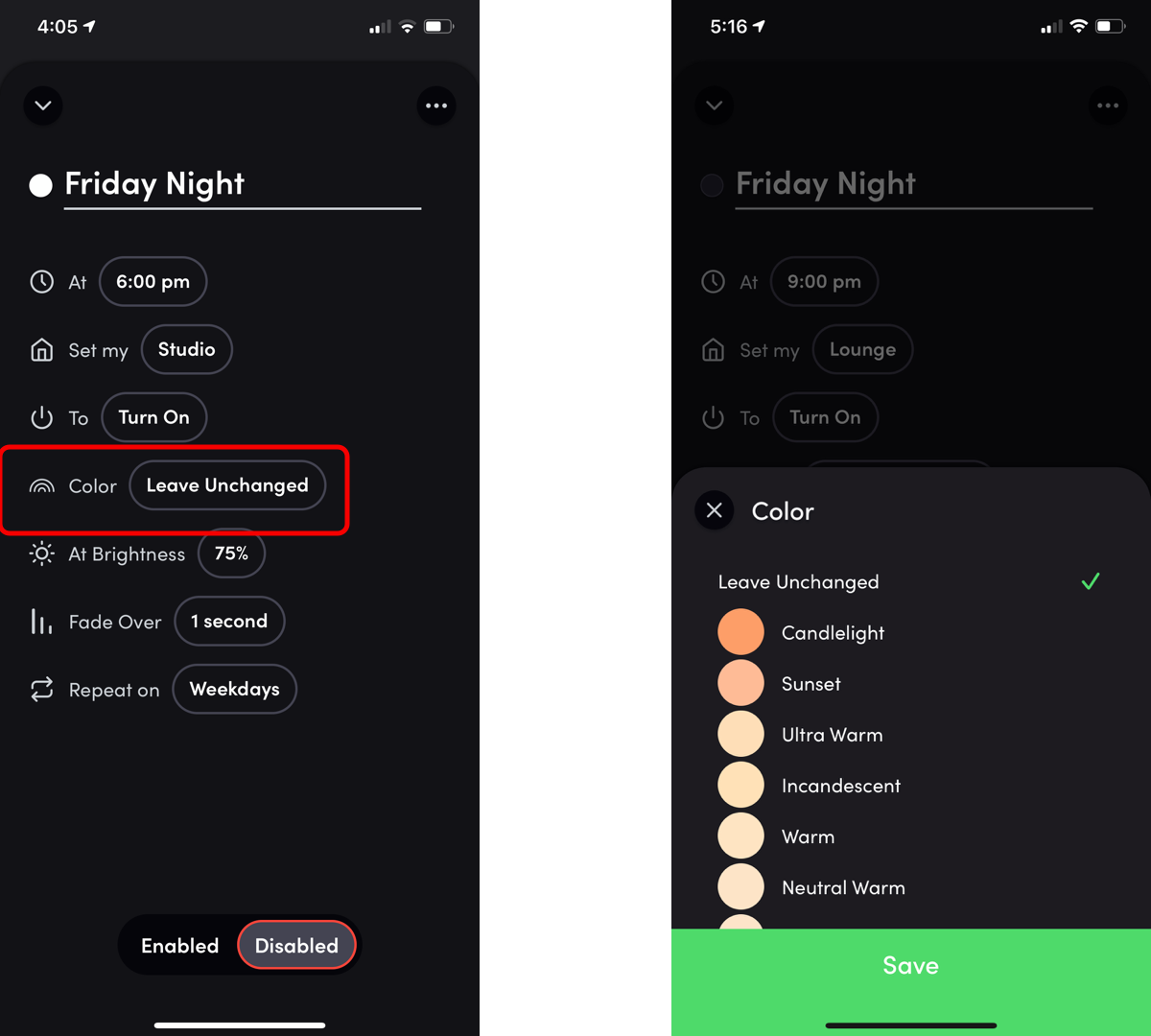 Brightness Settings
18. Select a % BRIGHTNESS
19. LEAVE UNCHANGED will leave lights at the last known setting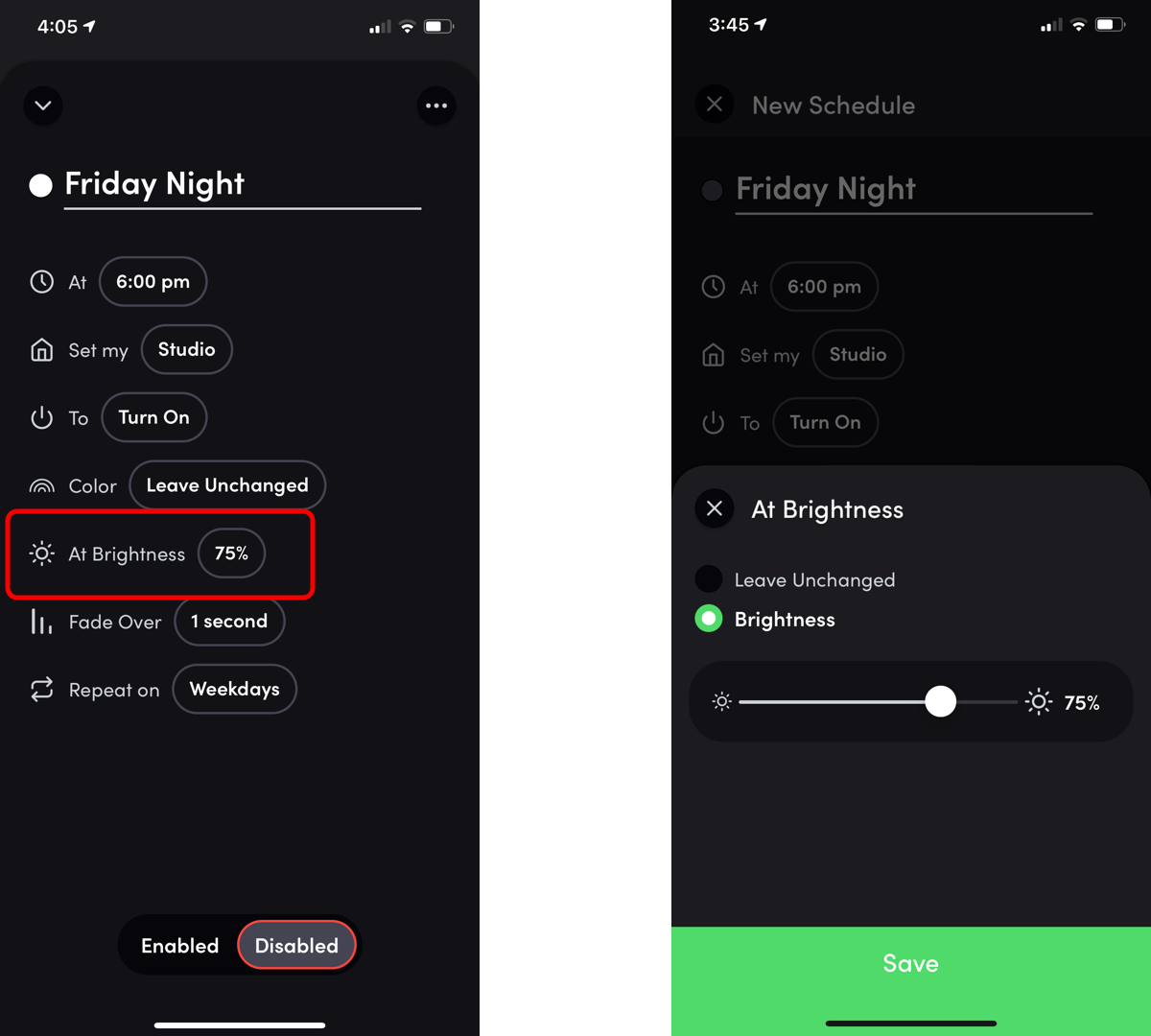 Setting Fade Duration for the schedule
20. Set your light to fade either on or off over a 1 sec - 24 hour period
21. Tap SAVE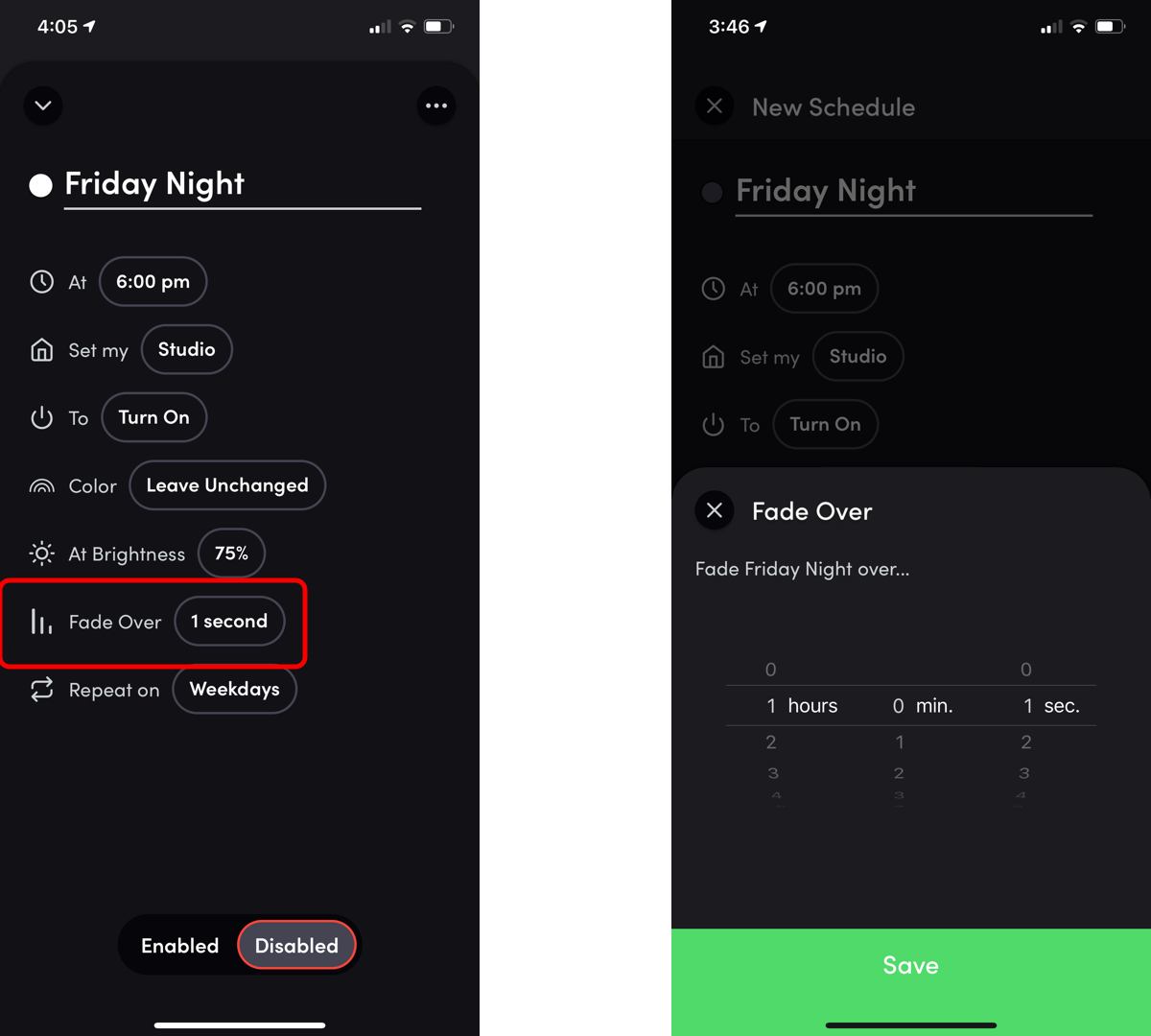 Choosing days to repeat the schedules
22. Select WEEKDAYS to change scheduled repeat times
23. Choose from NEVER, EVERY DAY, WEEKDAYS, AND WEEKENDS
24. Untick days if the above options are not applicable
25. Tap SAVE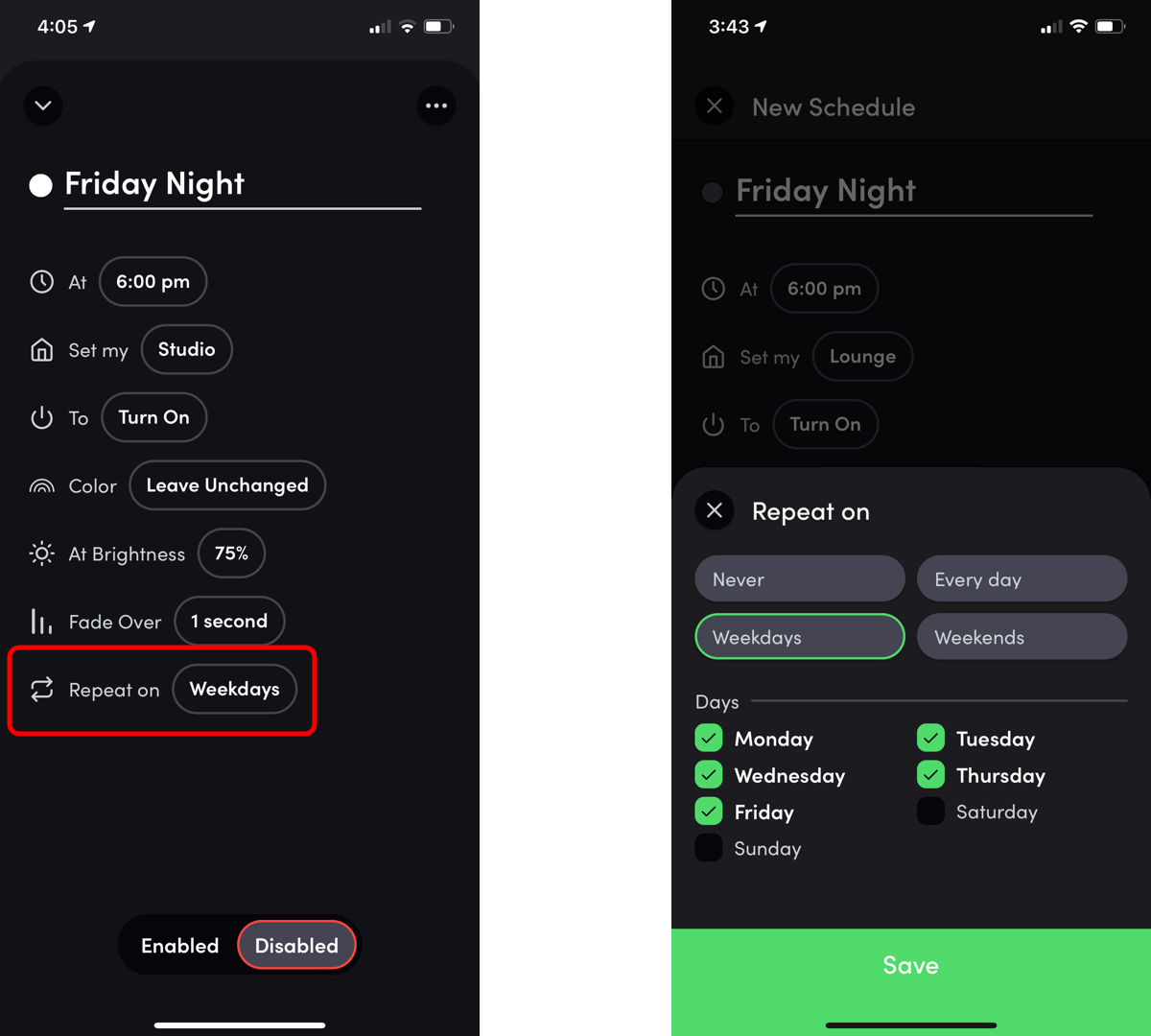 Setting Infrared to turn on (for security cameras)
26. Select NIGHT VISION
27. Choose from LEAVE UNCHANGED, 0%, 50% or 100% IR light
28. LEAVE UNCHANGED will leave lights at the last known setting
Please note this only applies to the LIFX + range of lights.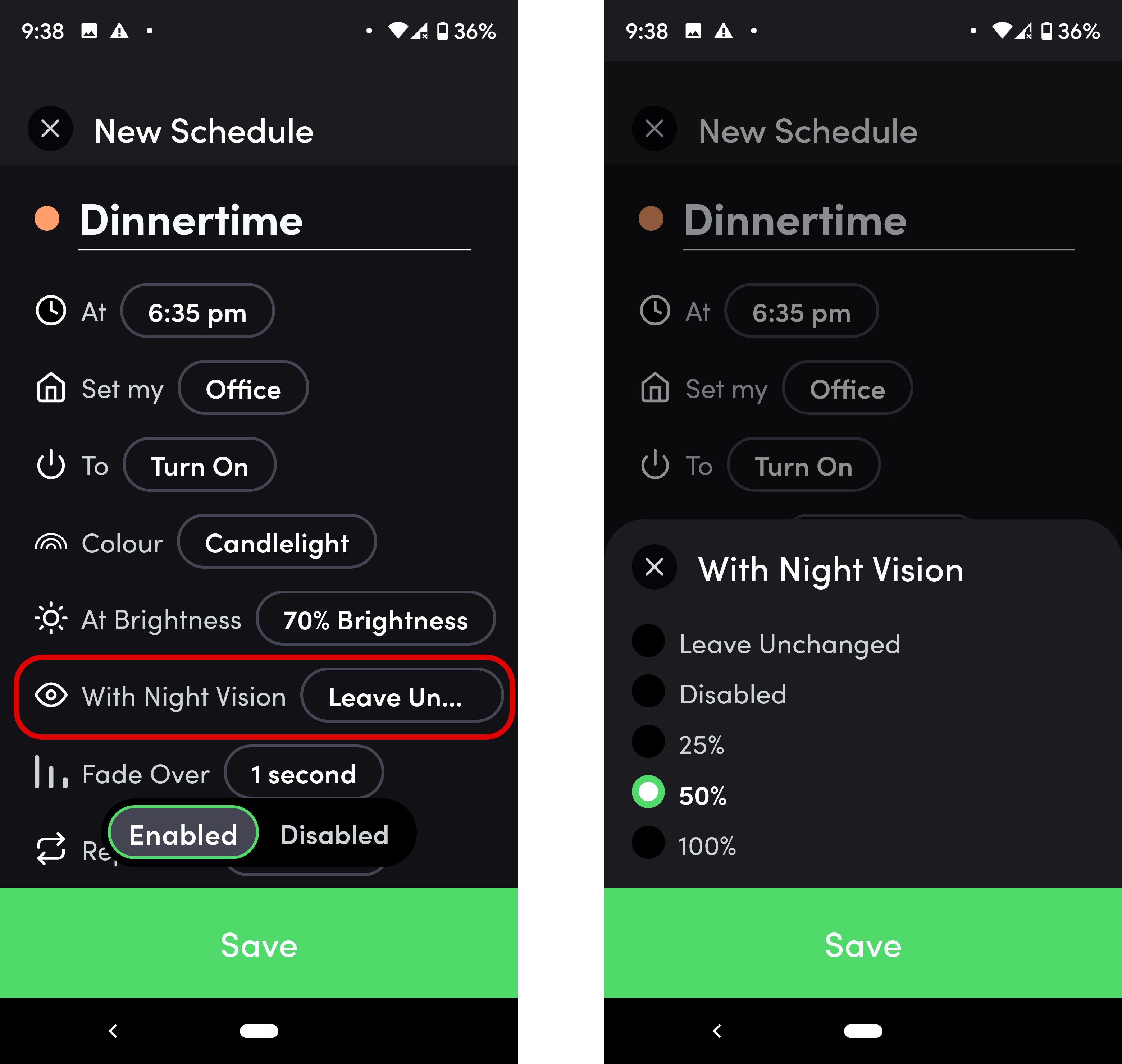 26. Tap Once all settings at up to date, select SAVE
Enabling and Disabling schedules
All enabled schedules will appear highlighted on the screen. All disabled schedules will be greyed out.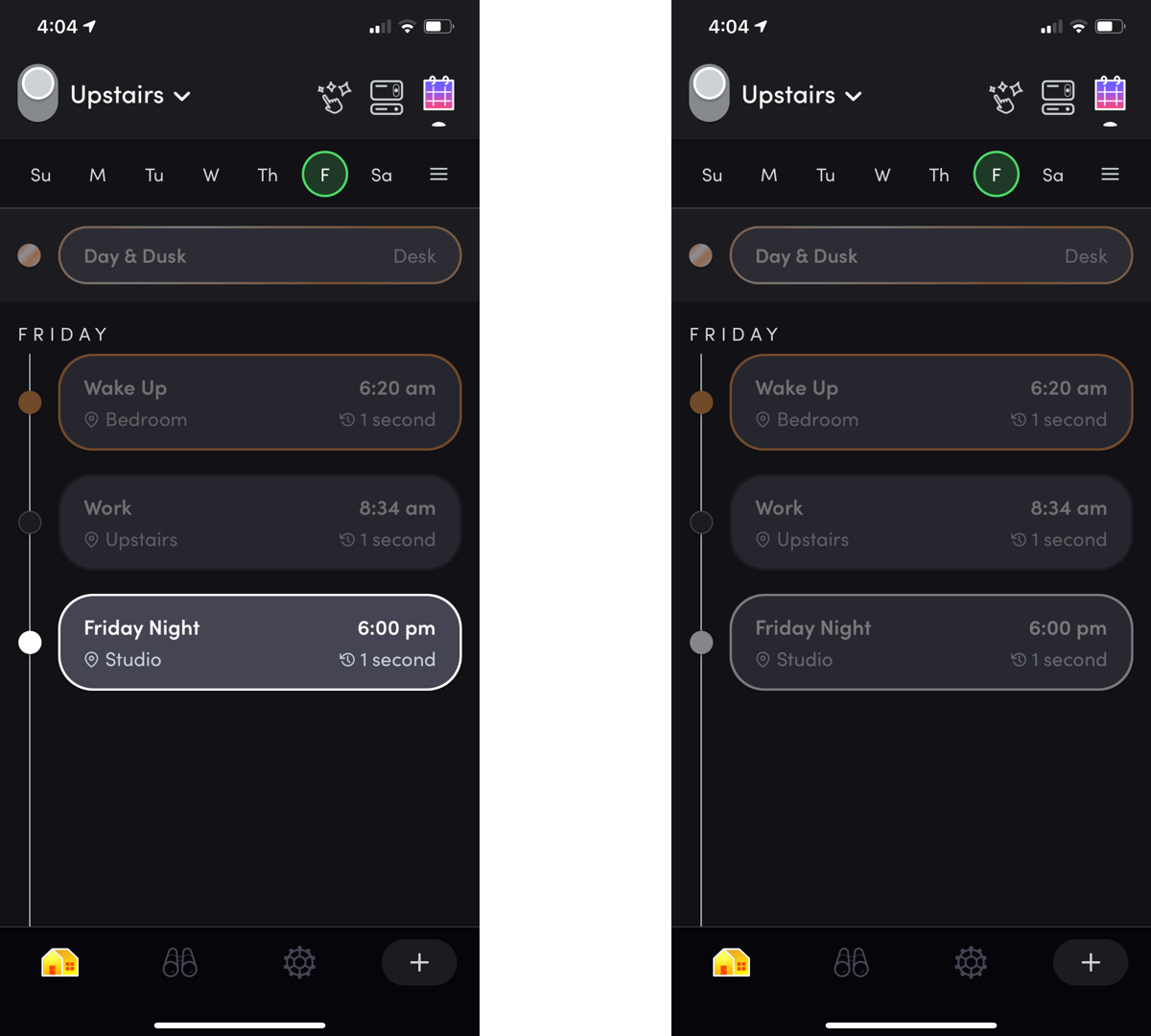 Editing a schedule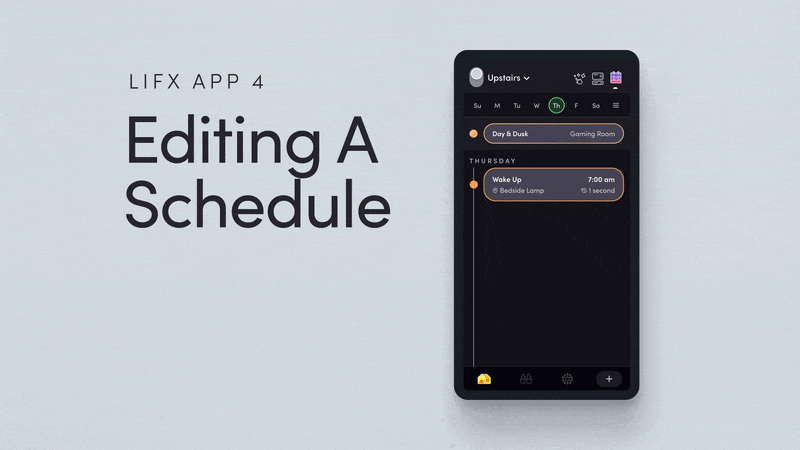 1. Tap on the name of the schedule
2. Follow the above steps (1-26) for the desired area to make the change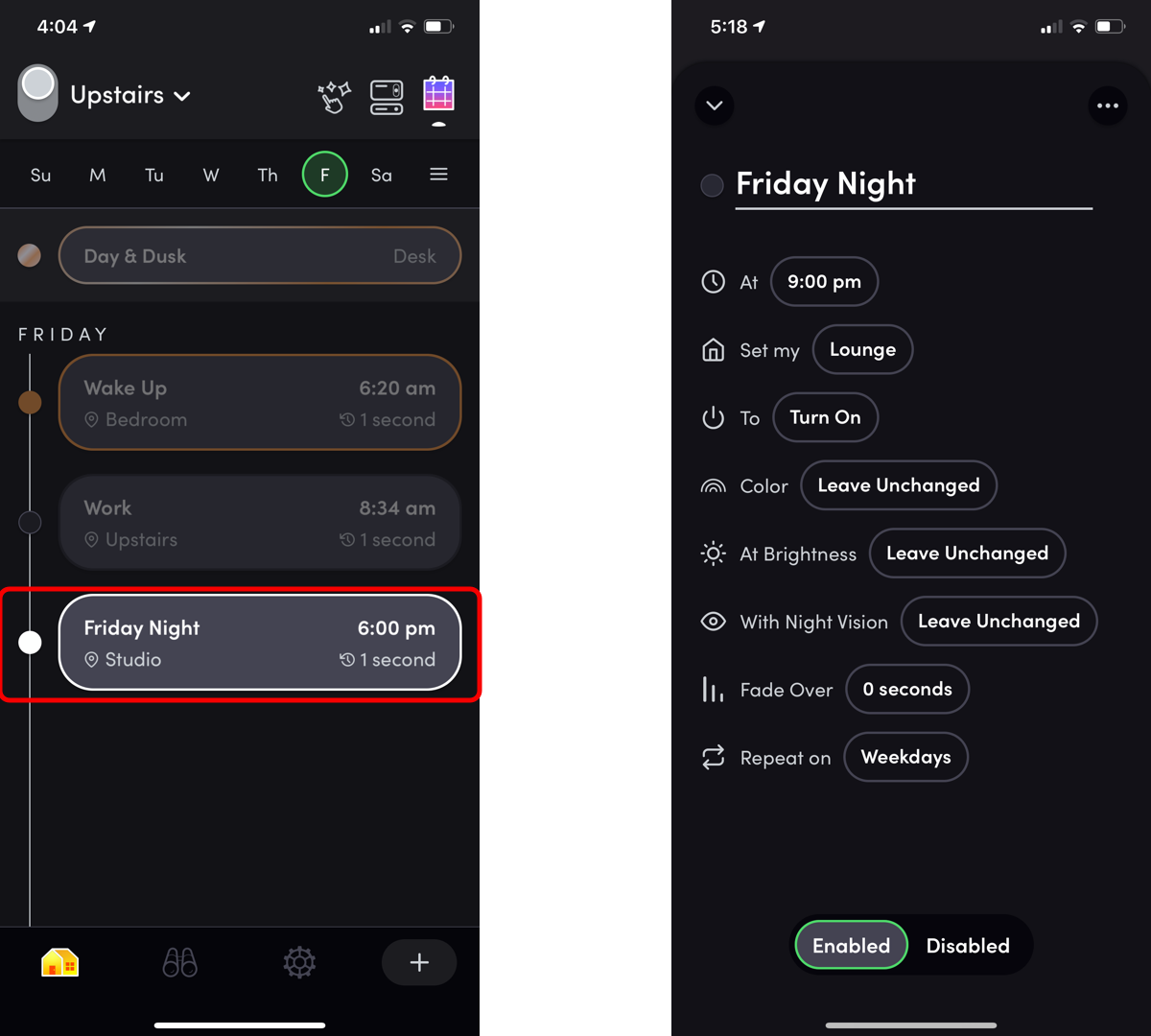 Deleting a schedule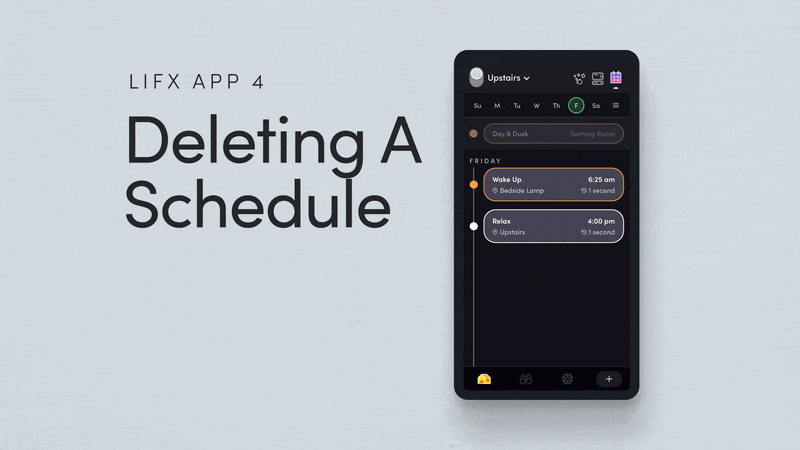 1. Tap on the name of the schedule you wish to delete
2. Select the three horizontal dots in the top right corner of the screen
3. Tap DELETE schedule